Nadal & Del Potro's Wimbledon Battle: 'Rafa Is Rafa'
Rafael Nadal and Juan Martin del Potro are known for their courage on court. Both men would need it in what turned into a heavyweight showdown in the 2018 Wimbledon semi-finals.
The always-motivated Nadal was hungry for a breakthrough at the All England Club that year, having failed to reach the quarter-finals since 2011. The Spaniard had only earned a 7-5 record in his five most recent appearances at SW19.
But Nadal carried plenty of momentum into the grass-court major. He was the second seed behind Roger Federer, but Nadal was the No. 1 player in the FedEx ATP Rankings. The lefty was also fresh off his 11th Roland Garros title.
Del Potro was finally back in top form after three left wrist surgeries in 2014 and 2015 kept him out of the Top 100 of the FedEx ATP Rankings until September 2016. The Argentine hadn't made it past the third round at The Championships since 2013, but he only lost one set en route to the 2018 quarter-finals.
Nadal only dropped seven games against Del Potro in that year's Roland Garros semi-finals, but the 'Tower of Tandil' pushed him to the brink at Wimbledon. Nadal needed four hours and 48 minutes to battle past Del Potro 7-5, 6-7(7), 4-6, 6-4, 6-4.
"I think I played really good tennis today, but Rafa is Rafa," Del Potro said. "Sometimes you play your best tennis and it's not enough to beat him."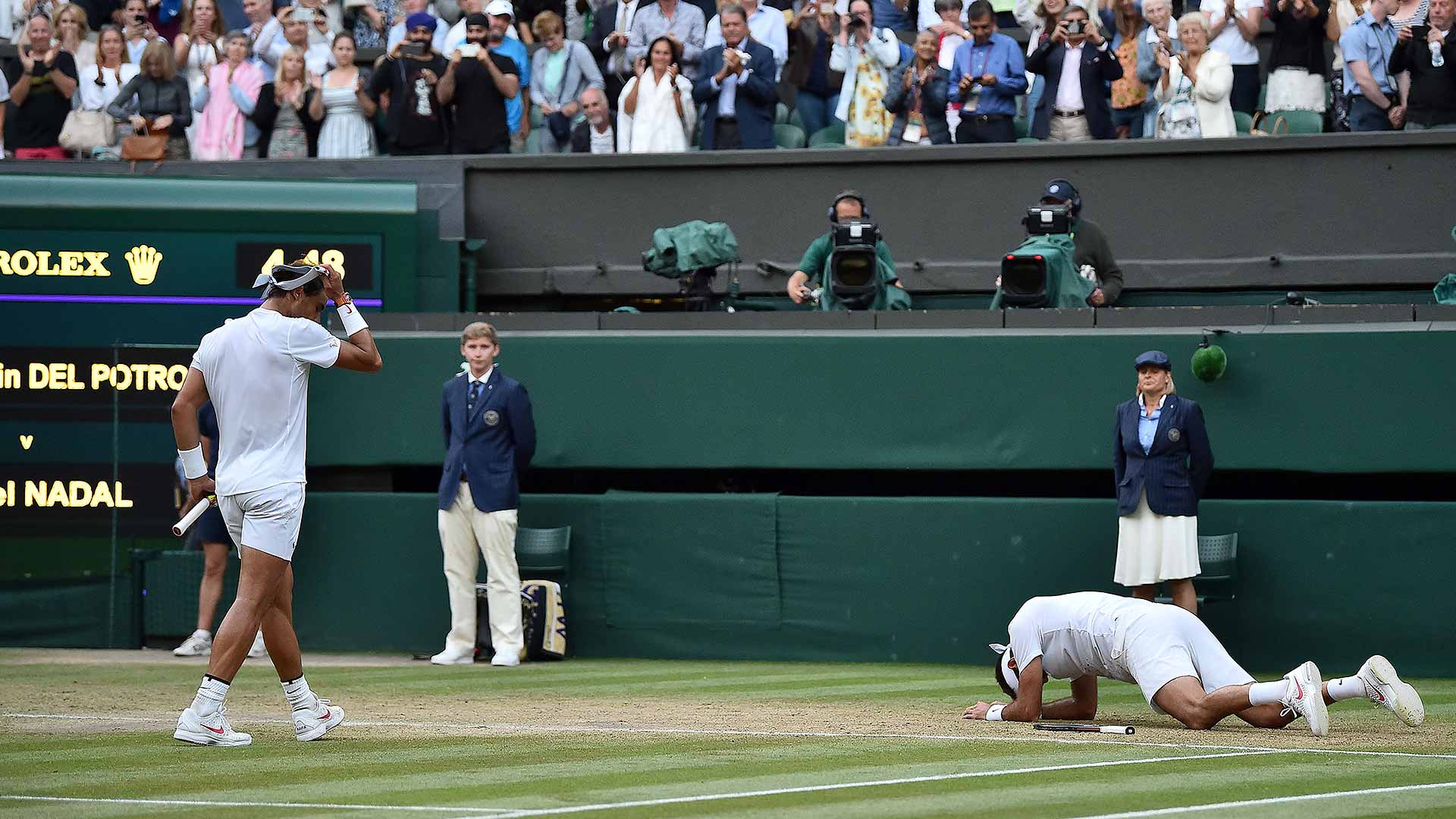 It appeared Nadal was poised to take a two-set lead when he led 6/3 in the second-set tie-break, but that's where the match turned.
Nadal double faulted at 6/5 to allow Del Potro back into the tie-break. The Argentine took full advantage at 8/7, his first set point, striking a cross-court forehand that hit the net cord and bounced too low for Nadal.
"Of course I was worried when I lost the second set," Nadal said. "Winning 6/3 in the tie-break, it's true that he played two great points with his serve, but then I made a very important mistake. That double fault was a big mistake. That's how it is. Then the match changed. He played well. I believe I increased little bit the level in the fourth and the fifth. But the fifth, he was playing huge. It was so difficult to stop him."
Both players often found themselves on the grass in an all-time great match, which transfixed spectators on-site as England's footballers pl
Read more: https://www.atptour.com/en/news/nadal-del-potro-wimbledon-2018-flashback